Features
by Alexis Lathem, Toward Freedom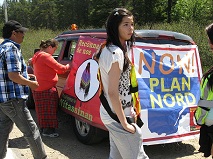 On the morning of June 10, a group of Innu people from the community of ManiUtenam, near the Quebec city of Sept Isle, set out on a 360 kilometer march towards a Hydro Quebec dam construction site on the Romaine River. Dressed in florescent vests, they departed from an encampment at the entrance to the reserve, beside Route 138, the only major road in the region, where the group has maintained a continual protest since the end of April.
Impossible to miss as vehicles pass along the route, the encampment strikingly asserts the presence of the Innu—who have been consistently ignored by governments and developers as they continue to encroach upon Innu territory.
Peruvian Rainforest Dwellers Charge Privatization Scheme
by Bill Weinberg, Indian Country Today
When the United Nations process on climate change unveiled the program known as Reducing Emissions from Deforestation and Forest Degradation (REDD) three years ago, it was hailed as "an effort to create a financial value for the carbon stored in forests, offering incentives for developing countries to reduce emissions from forested lands..." Last year, the program was redubbed "REDD+"—to emphasize "the role of conservation, sustainable management of forests and enhancement of forest carbon stocks."
REDD is part of a larger concept of trading "carbon credits" to provide an incentive to keep forests standing. The sale of these credits actually empowers the buyer (generally in the industrialized word) to engage in activities that emit carbon. Each ton of emitted carbon per purchased credit can be deducted from the yearly toll when computating emission caps established for participating nations under the Kyoto Protocol. In theory, this is to result in a net reduction in global emissions.