RUSSIA'S STRATEGY TO DESTABILIZE THE BALKANS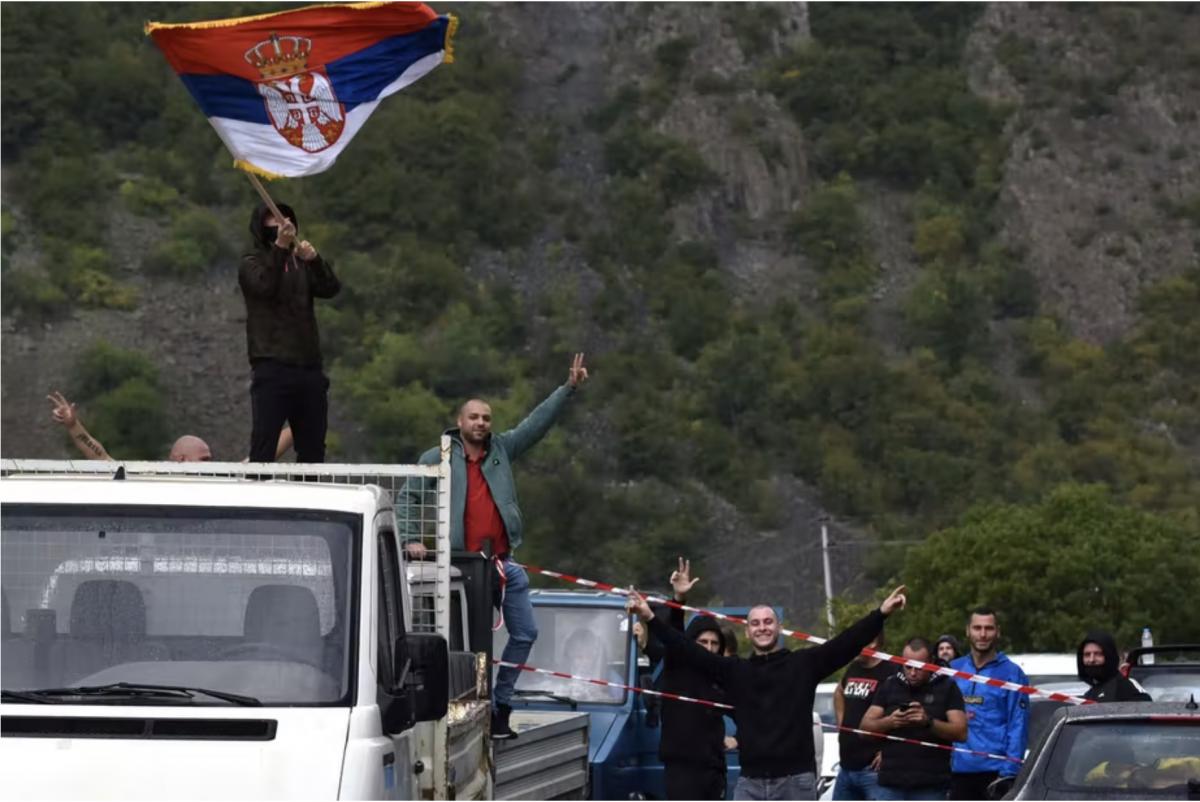 by Nicholas Velazquez, Geopolitical Monitor
Russia's relationship with Serbia, a state in the heart of the contentious Balkans, will almost certainly be leveraged to imperil European security for the foreseeable future. Serbian President Aleksander Vucic, a former Europhilic parliamentarian turned autocratic leader, continues to advance Russia's destabilizing efforts in the region. Russia's close relationship with Serbia allows for the Kremlin to develop ties with nationalist elements in the Serb diaspora throughout the Balkans to destabilize Kosovo, Bosnia, and other pro-Western states in the region.
Following the violent breakup of Yugoslavia in the 1990s, millions of ethnic Serbs found themselves in the various states which emerged from the conflict. As a result, ethnic divisions still plague the region and guide Belgrade's foreign policy. Belgrade continues to claim Kosovo as a part of Serbia, citing an historical claim to the land and the supposed illegitimacy of Pristina's unilateral declaration of independence. Russia, leveraging deep cultural ties with Serbia, provides Belgrade vital diplomatic and rhetorical support on territorial issues. In exchange, Serbia acts as a Russian Trojan horse in the Balkans to facilitate the spread of Russian influence amongst the Serb diaspora in the Balkans.
To Serbia's west, Russia maintains a robust relationship with Milorad Dodik, the Serb member of Bosnia's tripartite presidency. With Russian support, Dodik and Bosnia's autonomous Republika Srpska entity are establishing regional governing institutions that rival those of Bosnia's central state. These institutions range from a separate judiciary to the reconstitution of the Republika Srpska armed forces. Dodik said on June 6 that the Republika Srpska intends to secede from Bosnia. In response, Germany announced that it will deploy troops to Bosnia for the first time in a decade, citing resurgent instability emanating from the tense situation in the country.
Dodik's threats continue to destabilize Bosnia and delay the country's accession into Western institutions, to the delight of Moscow. Dodik met with Russian President Vladimir Putin on June 18 to reaffirm the Republika Srpska's desire to deepen economic cooperation and to combat Western sanctions against Russia. At this meeting, Putin expressed his appreciation of Dodik's efforts to prevent Bosnia from complying with Western sanctions stemming from the Ukraine war.
Russia's support for the Serb diaspora extends into Kosovo and continues to delay a resolution to the Serbian-Kosovar dispute. This dispute is incredibly important for Russia's current cadre of foreign policy leaders. For Putin and his ilk, the secession of Kosovo from Serbia isn't a reflection of the Kosovar people's will, but rather a cynical effort by the North Atlantic Treaty Organization (NATO) to destroy Serbia, a Russian ally. Additionally, Putin cites the West's supposed disregard for international law on the Kosovo issue to deflect attention from Russia's malign activities within the former Soviet Union.
Kosovar Serbs blocked key roads in north Kosovo on July 31 to protest Pristina's attempt to force them to replace their Serbian license plates with the Kosovar equivalent. Pristina is sensitive about Kosovar Serbs' use of Serbian license plates as it is a reflection of the Serb population's refusal to legitimize Kosovo statehood. Amid the protests, Kosovar Serbs and Kosovar police engaged in a tense stand-off on July 31, which ultimately led to exchanges of gunfire.
In response to the heightened ethnic tensions in Kosovo, Serbian officials threatened to retaliate if the Kosovo government continues to act against the wishes of Kosovar Serbs. Vladimir Djukanovic, a Serbian parliamentarian from Vucic's party, tweeted on July 31 that Serbia "will be forced to begin the denazification of the Balkans," in reference to Russia's justification for its war in Ukraine. As the situation escalated, Vucic met with Serbia's General Staff to discuss potential military options in response to "provocations" against Kosovar Serbs. In response to this development, NATO's Kosovo Force said it would intervene if Kosovo's stability is threatened. Eventually, Kosovo's government conceded to the Serb demonstrators and agreed to postpone its ban on Serbian license plates on Aug. 1.
Throughout Pristina's dispute with Kosovar Serbs, Russian media flooded the information space with articles claiming that tensions were the West's fault and several Russian officials voiced their support for Serbia. Russia's First Deputy Chairman of the Federation Council Committee on International Affairs Vladimir Dzhabarov said on Aug. 1 that Russia can aid Serbia with military support if necessary. Russian support for Serbia will continue to embolden Belgrade to rattle the sabre and extract concessions from Kosovo, thus worsening the security environment for NATO's Kosovo Force.
In a way, Russia's support for Belgrade throughout its conflict with Kosovo turned Serbia into a "little Russia," whose domestic stability is pegged to foreign policy victories. Like Russia, Serbia's path to democracy is obstructed by a centralized autocracy that has persecuted opposition figures and free press, and has established complete control of the judiciary. Additionally, Serbia's media environment is dominated by a handful of pro-Vucic tycoons that resemble the oligarchs who support Putin's regime. Both Russia and Serbia are bitter about supposed Western designs against their nations. Russia acted on this bitterness when it illegally annexed Crimea in 2014 and began a full-scale invasion of Ukraine on Feb. 24, 2022. Given Vucic's visit to the General Staff on July 31, and Djukanovic's ominous tweet, militarist sentiment amongst Serbian officials over Kosovo is evidently increasing.
Between backing Dodik in Bosnia and supporting the Kosovar Serbs, Russia successfully demonstrated its ability to exploit ethnic divisions to freeze and intensify conflicts in the Balkans. Russia's malign activities in the Balkans are succeeding in unnerving the West and slowing democratization in the affected Balkan states. As the Kremlin looks for ways to lash out against the West, meddling in the Balkans will continue to serve as a low-risk/high-reward opportunity for Russia to threaten Europe's security. Pro-Russian officials in Bosnia and Serbia will continue to advance Russian regional interests in exchange for diplomatic support.
———
This story first appeared Aug. 2 in Geopolitical Monitor.
Photo of Serb roablocks in Kosovo: Laura Hasani via Asia Times
From our Daily Report:
Bosnia re-balkanizing?
CounterVortex, Jan. 9, 2022
'Environmental uprising' in Serbia —and Kosova
CounterVortex, Dec. 21, 2021
Kosovo president resigns to face war crimes court
CounterVortex, Nov. 8, 2020
See also:
PHANTOM REPUBLICS
Kosovo's Independence Reverberates Across Eurasia
by Rene Wadlow, Toward Freedom
CounterVortex, Feb. 28, 2008
WHY DOES Z MAGAZINE SUPPORT GENOCIDE?
Against 'Leftist' Revisionism on the Srebrenica Massacre
by Bill Weinberg, World War 4 Report
CounterVortex, Aug. 1, 2005
—————————-
Reprinted by CounterVortex, Aug. 16, 2022