Tiananmen Square revisionism —again
Submitted by Bill Weinberg on Tue, 06/04/2013 - 19:03
Once again, the anniversary of the 1989 Tiananmen Square massacre brings tens of thousands to the streets of Hong Kong—for a candlelight vigil in the rain, with signs reading "Vindicate June 4" and "Never give up!" Said pro-democracy Hong Kong councilor Lee Cheuk-yan: "Everybody can see that China today continues to tighten and this suppression of human rights will cause more Hong Kong people to come out." But Tiananmen Square itself was packed with not with protesters but with tourists, as on any other day. Plainclothes police were out in force, checking ID cards of Chinese tourists. Days before the anniversary, the Tiananmen Mothers group wrote in an open letter circulated by the US-based Human Rights in China: "Our hope is fading and despair is drawing near." The mothers were closely watched by police as they paid respects to victims in Beijing's Wan'an cemetery, while gathering at Tiananmen itself was completely impossible. "If the government is sensible, next year is the 25th anniversary and they could designate a spot where we could march," said Zhang Xianling, 76, a leader of the group.
In a tweet before the anniversary (the group apparently has access to Twitter, perhaps through intermediaries abroad), the Mothers accused new President Xi Jinping of taking China "backwards to Maoist orthodoxy." But authorities jacked up censorship of China's internal social media, blocking searches not only for terms like "Tiananmen" but even the words "today" and "tonight," and removing the candle symbol from the list of emoticons on Sina Weibo (China's answer to Twitter). Cyber-dissidents matched wits with censors to send coded messages. The obvious numerical combination 6-4 was of course banned, so dissidents switched to 63+1, 65-1, and 5-35 (for "May 35") until the cyber-cops got wise to those too. One Weibo "tweet" slipped through the cracks: "The events of that day in that year I will never forget. I will always keep a candle lit in remembrance in my heart." A photoshpped image of the famous shot of a lone man confronting a row of tanks—but with the tanks replaced by giant rubber ducks—was circulated before it was blocked by censors. In a surreal development, the website GreatFire.org, which monitors Internet censorship in China (a reference to the "Great Firewall"), reported that the search term "big yellow duck" was subsequently blocked. (Reuters, BBC News, The Guardian, IBT, June 4; DW, June 3)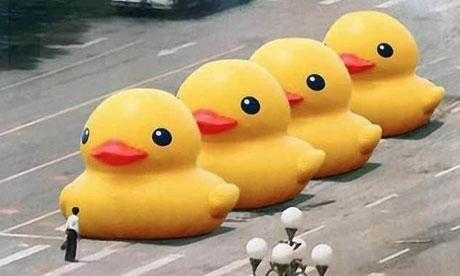 The Washington Post carried a fascinating profile of Chinese rocker Cui Jian, who performed his self-penned songs with his guitar at student-occupied Tiananmen Square two weeks before the massacre. He wore a red blindfold over his eyes as he sang his song "A Piece of Red Cloth"—although with vague lyrics, clearly a protest aimed at Communist Party rule. A second song performed there, "Nothing to My Name," became an unofficial anthem of remembrance of the massacre. Perhaps because authorities only gradually became aware of this, it wasn't until the next year that they reined Cui in. "A September 1990 show before 10,000 fans in Beijing's Workers Stadium was the last large-scale concert that Chinese authorities allowed their country's biggest rock star to make," the Post writes. He is still performing today—but reduced to the bar-and-hotel circuit. A scholar of Chinese pop music, Jonathan Campbell, says: "I can't think of someone who has ever been more worthy than Cui Jian for induction into the Rock and Roll Hall of Fame." We second that.
Bizarrely, the Post writes that "the Party's totalitarian era was over by 1989" if "not as distant then as it is today"—an assertion rather contradicted by the very facts they are reporting. There's also a certain irony to the Tiananmen Mothers' accusation that China is moving "backwards to Maoist orthodoxy"—which we suspect may be an attempt at an acceptable framing of dissent. These locutions loan legitimacy to the assumption that China's economic "liberalization" has meant a retreat from "totalitarianism." As we have pointed out, China embraces corporate globalization and (within proscribed limits) the Internet, while still maintaining the fundamentals of the old totalitarian system where political freedoms are concerned. Globalization-boosters never seem to get this. We assume the Tiananmen Mothers do.
UC Irvine historian Jeffrey Wasserstrom wrote June 3 in Dissent on his work with Maura Elizabeth Cunningham on the second edition of China in the 21st Century: What Everyone Needs to Know. The section on Tiananmen Square notes that the protest wave began in mid-April with Beijing students gathering to mourn Hu Yaobang—a party official whose demotion for taking a tolerant line on student demonstrations three years earlier "had raised his stature in the eyes of youth hoping for change." It ended with the massacre. The authors' commentary, alas, needed no updating for the new edition:
Many supporters of the Tiananmen movement hoped that, within a few years, the regime would reassess the protests of 1989. A similar set of 1976 demonstrations, which also centered on Tiananmen Square and which were also triggered in part by the death of an admired official—in that case, Zhou Enlai—were initially dubbed "counterrevolutionary riots" but then, after Deng's rise, reassessed as a "patriotic" struggle. Relatives of slain students and workers, and human rights activists around the world, have pushed for a similar reassessment of the protests of 1989, but this has not come to pass.

One reason is that there has not been the kind of dramatic shift within the party leadership as occurred in the aftermath of the 1976 protests. Deng's 1978 rise signaled a dramatic turnaround, and he could logically interpret the 1976 protests as a precocious signal of support for his eventual assumption of power.

The situation relating to the June 4th Massacre is very different…all the main patrons of current leaders, and many of the leaders themselves, were closely associated with Deng and his policies and see themselves as continuing the reforms he started. They resist taking actions that could be regarded as repudiating Deng's vision for fear that doing so might, by extension, serve to undermine their own legitimacy.
Wasserstrom laments: "Those lines, written four years ago, could have been written as far back as the early 1990s, as soon as it became clear that there would be no quick official reassessment of the movement." He also protests that even in the West certain things have been excised from historical memory of the massacre: "the important role that workers as well as students played in the movement... the fact that there were not only massive demonstrations in Beijing but also very large ones in scores of other cities, and that there was a massacre in Chengdu as well as the capital that June."
Robin Munro, who was on the scene in Beijing in June 1989 as a Human Rights Watch observer, elaborates in The Nation:
A "revisionist" trend currently emerging in some Western circles maintains that there was no massacre. That is preposterous. A massacre did take place—but not in Tiananmen Square, and not predominantly of students. The great majority of those who died (perhaps as many as a thousand in all) were workers, or laobaixing ("common folk," or "old hundred names"), and they died mainly on the approach roads in western Beijing. Several dozen people died in the immediate environs of the square and a few in the square itself. But to speak of that as the real massacre distorts the citywide nature of the carnage and diminishes the real political drama that unfolded in Tiananmen Square.
An interesting corrective to contemporary assumptions about post-Mao China's supposed retreat from totalitarianism was provided by the late William Hinton in his 1990 book on Deng Xiaoping's capitalist conversion, The Great Reversal. In the book's very opening words:
June 4, 1989, stands as a stark watershed in China's modern history. The slaughter of unarmed civilians by units of the Peoples Liberation Army as they blasted their way to Tiananmen Square illuminated the "reform" era as nothing else could. It lit up, like a bolt of cosmic lightning, the reactionary essence of China's current leading group.

This essence was known to many in China and to some abroad long before the lightning struck in June 1989, but most members of the Western media and academic world were too mesmerized by China's reform rhetoric and market progress to apprehend the reality of the events unfolding before their eyes. Since privatization matched their prejudices and a consumption boom confirmed its validity, they preferred not to look too closely at the underlying currents of economic dislocation, infrastructural decay, environmental degradation, social disintegration, cultural malaise, and rising class antagonisms that threatened to unravel the fabric of Chinese society.

Mao Zedong was far more astute. More than twenty years ago during the Cultural Revolution, he exposed Deng Xiaoping, Yang Shangkun, and most of their "hard line" colleagues as capitalist roaders. He accurately predicted that if such persons ever came to power they would transform the Communist Party into a revisionist party and finally into a fascist party and then the whole of China would change color.

The surprising thing is not how accurate Mao's prediction turned out to be, but rather how quickly it materialized in history.
Was the Tiananmen massacre in spite of China's capitalist transition, or a function of it? As we stated on last year's 6-4 commemoration:
On June 4, 1989, China's rulers proved to the world that they were willing to slaughter their own citizens in the interests of "stability." They were rewarded with massive investment, as Chile was after Gen. Pinochet's similar demonstration of Sept. 11, 1973. And the horrific conditions at the Guangdong factories that produce hi-tech gadgetry for Apple at minimal labor costs are the clearest evidence why this demonstration worked.
Stating this obvious reality seems to be just as taboo in the West as in China. A grim testament to the power of "globalization."